IELTS Vocabulary Booster, improve your English Vocabulary.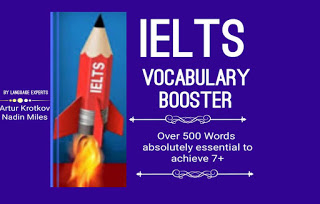 Everyone who is preparing for the IELTS exam wants to improve his English vocabulary because vocabulary is vital to achieving a good band score, especially in speaking and writing module. Even though there are hundreds of books available in the market but, I have selected some best books for English vocabulary and IELTS vocabulary booster is one of them. Let's discuss some features of this book and how students should use this book to achieve a 7+ band score in the IELTS Exam.
About The Authors.
This book is written by Artur Krotkov and Nadin Miles. They both are English Language Experts and have been teaching IELTS for many years. Both authors have written many other books on the IELTS material.
IELTS Vocabulary booster contains:
This book is designed for advanced level students.it contains more than 500 important words that are required to score a 7+ band score in the IELTS exam. In addition to the words, this book includes an explanation of nine IELTS writing topics that are important and very common in writing task 2. Some main topics are mentioned below:
Education
Environment
Food
Globalization
Technology
Health
Crime and Punishment
Outer Space
Art
Examples and definitions are also given to help students to understand and learn the words more easily.
Method to use:
As we know this book only contains 500 English Words that are not enough to improve your vocabulary. so follow the below-mentioned steps to use this book in a more productive way.
use a dictionary to fully understand the words
Make notes of words with writing different examples of your own.
Read newspapers and magazines to find and learn new words
Don't forget to revise the words before going to bed.
Get IELTS Vocabulary Booster pdf :
I recommend you to purchase a hard copy of this book because physical books are easy to use and are more beneficial in learning new things. So purchase this book at a high discount from the given link or download an electronic copy of this book from the given links:
Warning message:

Given pdf might be edited or might contain some malicious codes.
Download or purchase this book from the above-mentioned links. I hope this post may help you and don't forget to share this post with your friends. make comments for any question.