Achieve 7+ bands with the help of collins vocabulary for IELTS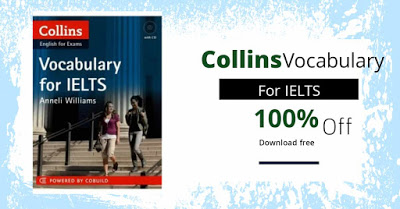 Welcome guys, today I am here with a very helpful and useful vocabulary book for IELTS. collins vocabulary for IELTS. this book is among the best IELTS vocabulary book and targeted to achieve 7+ bands. let's discuss this book with download links.
Author of collins vocabulary for IELTS:
This book is powered by build and written by Anneli Williams:
Anneli Williams is an EAP educator and course director at the University of Glasgow, where she has planned and taught English for Academic Purposes and study skills courses since 1995. She has authored two books in the Collins English for Exams Series: Writing for IELTS and Vocabulary for IELTS, and written various English language courses for students.
What does this book include:
This book is a large collection of advanced English words. one can improve his/her vocabulary with the help of this book. This book has the following features:
A CD to practice words
20 units
different examples
images to explain words
a detailed explanation of words
exercise to practice words
Answer key to check 
practice for all IELTS modules writing, reading, listening, and speaking
Audio scripts
How to use this book:
As I mentioned earlier that this book has been divided into 20 units and out of these 20 units first 9 units contain vocabulary related to important IELTS speaking and writing topics. Moreover, the next units 11 to 19 includes words for a general introduction. Units  10 and 20 include exercise to practice these words.
As we know it is impossible to cover all important and commonly used words in a book. so I added to this book students should read newspapers and watch movies to learn new vocabulary words.
if you are facing problems while understanding the meaning of a wors then use a dictionary.
make a list of all the words you learned and use them in your daily life, this will help you to remember the words and finally positively affects your remembering skills.
Get Collins vocabulary for IELTS:
I always recommend you purchase a physical copy of books. but you can also use these books on your devices by downloading them. I have provided both the purchase and download links. you can purchase this book at a discounted rate from the below links:
COLLINS VOCABULARY FOR IELTS: ADVANCED
---